Denne artikel er mere end 12 måneder gammel og kan indeholde gammel/uddateret information. This entry has been published on 16th June 2021 and may be out of date.
Vi ved ikke om det foregår dybt under jordens overflade, men hvis fortællingen skulle have et ekstra twist, ville det passe aldeles glimrende ind. Historien drejer sig nemlig om det såkaldte VAR-rum – eller rettere de. Der er nemlig to af slagsen.
Hvad vi hidtil har været vant til, er at VAR-rummet er placeret i forbindelse med TV-produktionens vogn ved stadion, men det gør sig ikke gældende under EURO2020. Her befinder VAR sig nemlig i UEFA's hovedkvarter, mere præcis i schweiziske Nyon.
Et storstillet setup for det, som VAR-chefen – eller mere præcist UEFA Referees Comitee Chairman – Roberto Rosetti kalder 'Verdens bedste VAR'.
På et typisk VAR-team har vi en hovedvideodommer (VAR), en assistent-VAR (AVAR) samt en assistent-VAR med ansvar for mulige offsidehændelser. Hovedvideodommeren, der naturligt nok er lederen af VAR-teamet, vil så have kontakten med dommeren på banen, mens AVAR vil følge med i andre vigtige hændelser på banen. Yderligere 3 operatører vil bistå VAR-teamet og som rosinen i pølseenden også en VAR support-assistent. Med andre ord, så består et VAR-team altså af 7 personer. Der er sat to rum op med VAR hos UEFA under EURO2020.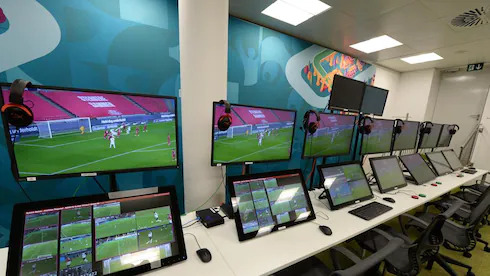 Her nogle nedslagsfelter, som VAR under EURO2020, vil slå ned – og have skarpt fokus – på.
Usportslig optræden
Push and hold opponent in the penalty area
'Skuespil'
Farligt og vildt spil, som bringer spillernes førlighed i fare
Complaints over and mobbing of referees
In addition, offside and hand-on-the-ball situations, as previously mentioned , also be a focus area.
Og UEFA's dommerkomite har såmænd ikke blot siddet i deres elfenbenstårn og udstukket nye love og regler. Faktisk har man haft en dialog med alle de deltagende hold spillere og trænere forud for turneringen: – Det er vigtigt for os at arbejde sammen med holdene, for at skabe en bedre fælles forståelse, fortæller Rossetti på UEFA's egen hjemmeside, med tanke på at holdene får det bedst mulige grundlag til at forstå, hvordan dommerteams og deres VAR-kammerater, kommer til at agere ud fra de nye fortolkninger til EURO2020. – Vi er overbeviste om, at VAR-systemet vil være til stor fordel for EURO2020, slutter UEFAS dommerformand Roberto Rossetti.
Source: UEFA.com