Denne artikel er mere end 12 måneder gammel og kan indeholde gammel/uddateret information. This entry has been published on 19th January 2021 and may be out of date.
Efter udmeldingen fra sportsudstyrsproducenten, Hummel, om signingen med Southampton FC, knytter det kendte sportsbrand dermed en sløjfe på historien med den engelske storklub. Men Hummel manifesterer også, at et større fremstød globalt, men også specielt overfor den bedste engelske fodboldliga, er en realitet.
Under Armour's exit made space
Aftalen er blot den seneste af flere med europæiske topklubber, og med DBU, som den hidtidige top af kransekagen i sportsproducentens ambitiøse plan om at vækste internationalt. – Premier League er stedet at kigge hen. Ligaen dækker jo alt fra England til Asien, lyder det fra Morten Lund, Marketing Manager for Sport & Global Sponsorships hos Hummel. Det gør han med henvisning til firmaets sponsorfremstød mod specielt det engelske kontinent. – Fans er vilde med trøjer fra blandt andet firserne, sågar hvilke typer trøjesponsorer, som var, uddyber Lund.
Aftalens opståen, skal muligvis ses i lyset af, at den amerikanske udstyrskæmpe Under Armour nylig, har revideret sin marketingsstrategi og dermed skippet den engelske Premier League-klub. Forladt af den ene, skaber som bekendt luft til en anden. Og her stod Hummel klar i døren, klar til at indgå et nyt samarbejde. Det er dermed lidt af et catch, som den danske sportsudstyrsleverandør har gjort. Det er ikke blot med et snuptag, man lige hiver en engelsk PL-klub i stalden. Se forøvrigt Hummels præsentationsvideo om aftalen, sidst i artiklen.
Satser stort på topklubber
Det er 30 år siden, at Southampton sidst var at se i den danske Hummel-trøje og 'comebacket' med den engelske Premier League-klub gør Hummel-direktøren, Allan Vad Nielsen, stolt: – Efter 30 års fravær er vi stolte og beærede over igen at være officiel partner med Southampton FC. Fodbold er indgraveret i vores DNA og aftalen (…) repræsenterer endnu et stort skridt for vores ambitiøse vækstplaner og udvidelser internationalt.
På den engelske klubs side er begejstringen lige så stor: – Fra det øjeblik vi mødte Hummel-teamet var det åbenbart, at der var en god kemi i mellem os. Ikke kun på grund af vores fælles fortid, men også på grund af det potentiale vi vi kan opnå sammen i fremtiden, fortæller klubbens kommercielle chef, David Thomas. Kontrakten mellem Hummel og Southampton er på 5 år og gælder fra 1. juli.
Aftalen er blot den nyeste i en række aftaler, som den jyske sportsproducent har hevet hjem på det seneste. Også Glasgow Rangers, Charlton – hvor den danske fodboldlegende Allan Simonsen forøvrigt slog sine folder i sin karrieres efterår – samt en aftale med Dansk Boldspil-Union på hele otte år, er på listen over nye 'signings'.
Ikonisk trøje-comback
Og når vi nu taler om DBU… Ser man godt efter på Hummels promotion-video, afslører den også, at en af klubbens gamle spilletrøjer, som mere eller mindre var en vaskeægte kopi af den ikoniske landsholdstrøje fra VM i Mexico, hvor Danmarks bolche-drenge, spillede sig ind i hjerterne på millioner af fodboldfans verden over.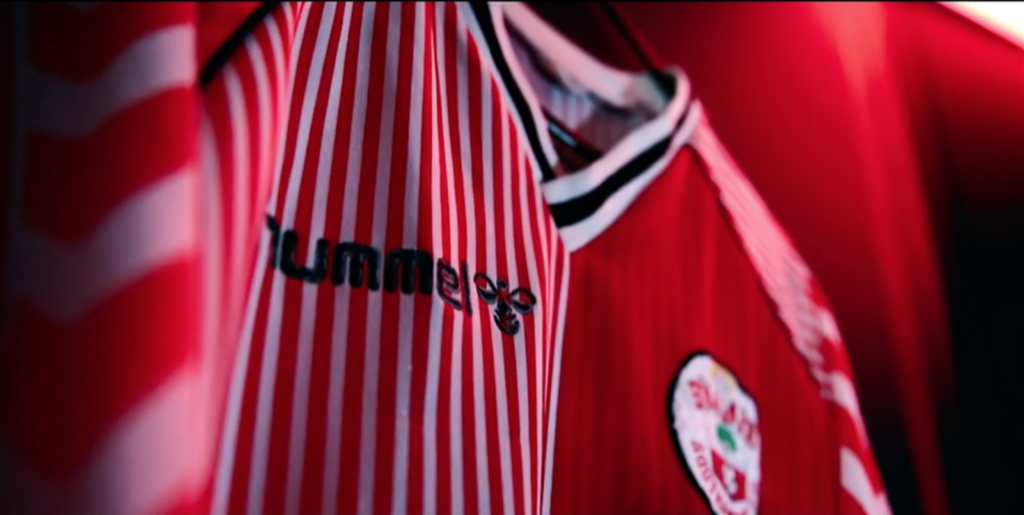 Sources: Hummel.dk, soccerex.com