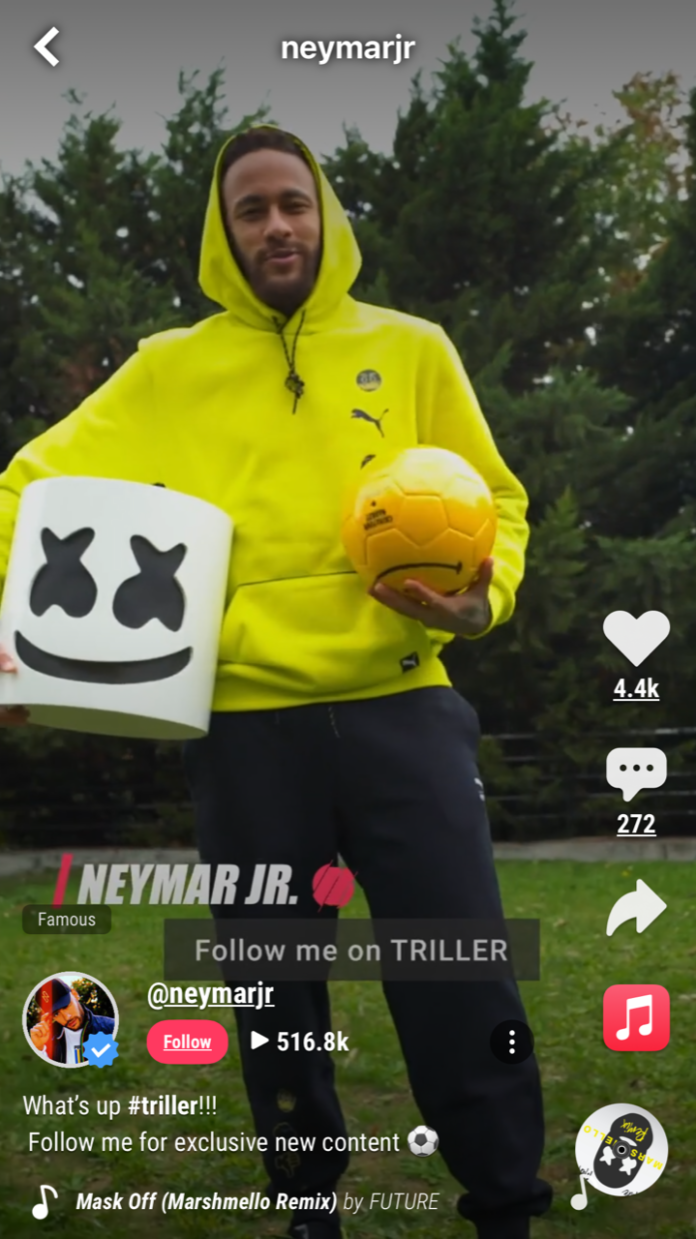 Denne artikel er mere end 12 måneder gammel og kan indeholde gammel/uddateret information. This entry has been published on 19th November 2020 and may be out of date.
Probably not a headline you'd expect to find on this page, but it's true, according to a press release from Triller. According to this press release, the football player has dropped TikTok as a partner in favor of a forward-thinking competitor. Neymar has 8 million followers on TikTok before the change.
It almost sounds like a transfer story. But at the same time, it also shows how the game board is no longer limited to the area within the chalk lines, but to that extent also outside. It is clear that a brand will weaken as soon as the career is discontinued, but a few, such as David Beckham, still manage to hold on to their brand to some degree. Therefore, footballogy.net also covering this story. For peripheral? No, it's precisely for that reason it's a relevant story. And... Neymar has actually urged his TikTok followers to leave the platform to follow him to new 'pastures'.
And who then is Triller? The competitor to TikTok, which few people have probably heard of, unless you are a resident of the United States. The service, which appeals to the same audience as TikTok, has really gained momentum in connection with TikTok's difficulties with the - still - incumbent US President, Donald Trump.
Revealed news as Marshmello
Back to the Brazilian world star, who has now - probably for a considerable amount of millions - installed Triller on his mobile. Neymar surprisingly appeared in a video on the service with the music producer and the phenomenon Marshmello, who is behind productions for, among others, Seline Gomez and Khalid.
Neymar Jr., who currently plays for the French major club Paris Saint-Germain, has even released an official statement regarding the sponsorship event, which we can rightly call this event. In this, Neymar is quoted for the following statement.
– Triller's diversity, cultural graphics and influence on culture are unsurpassed. Proud to announce that I am joining the Triller family and leaving TikTok forever. See you at Triller.
200 million followers on social media
Also part of the story is that Neymar's Triller profile shows an Instagram logo, so the app opens to the social image media. Instagram is by the way owned by Facebook… yes, then you can probably quickly spot a few links here and there - and not least a power struggle of dimensions. The battle for the young people's favor - even though Triller calls himself 'The adults' TikTok'.
Neymar has over 200 million fllowers across social media platforms.
ABOUT TRILLER
Triller, which is founded in 2015 is an AI-powered music and social media experience that brings together creators, artists and brands around the world. Powered by the "You Do You" motto, Triller allows users to create and share videos in seconds and back them up with custom music tracks using Mashtraxx editing technology. Celebrities like Alicia Keys, Cardi B, Chance the Rapper, Marshmello, Roddy Ricch and Eminem regularly use the app to create their own original music videos, while Triller has attracted brands like Pepsi, Chipotle, Manscaped, Boost Mobile and more. Trills were recently purchased by Proxima Media. Source: Triller.co
Sources: Digiday, Quora, Business Insider og Presswire